The Summer Jazz Festival is coming to Gateway Sydney
Enjoy live and free jazz band performances while you dine or enjoy the summer sun at Gateway Sydney this January.
Meet the Performers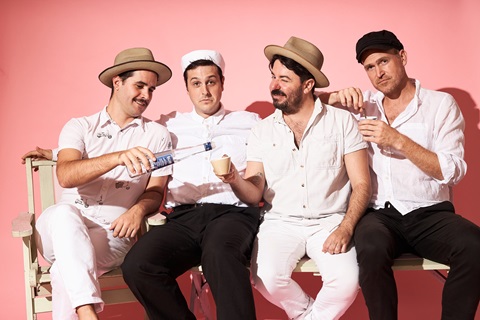 Ben Panucci + Aaron Flower Duo, and Cope St Parade
This diverse collective of artists plays everything from old-fashioned jazz to gypsy-swing with exceptional Aussie swagger. From an intimate Manouche guitar duo to the full four-piece quartet, this festival favourite will delight audiences with their infectious blend of jazz, folk, pop and parlour music.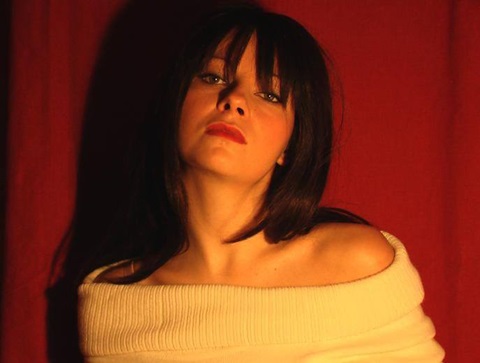 The Pre-Loved
Inspired by the great jazz and big band singers, The Pre-Loved is led by Sydney vocalist Paige Delaney and bassist Nick Hoorweg. The ensemble plays the best of a bygone era and features the toe-tapping soul of Motown, rollicking rhythm and blues from the great artists of the 1950s + 60s and rockabilly classics.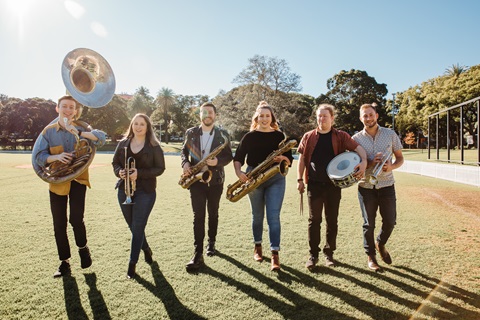 343 Brass Band
343 Brass Band plays energetic jazz, pop, RnB and gospel that guarantees serious groove. The New Orleans-style line-up features a collective of Sydney's best young horn players and drummers so bring your dancing shoes and enthusiastic singing voices and get ready to party.
Performance Schedule
| | | |
| --- | --- | --- |
| Day and time | Performer | Location |
| Thursday 13 January, 4pm – 7pm | 343 Brass Band | Alfred Street |
| Friday 14 January, 11:30am – 2:30pm | The Pre-Loved | Jesse Street Gardens |
| Friday 14 January, 4pm – 7pm | Ben Panucci + Aaron Flower Duo | Alfred Street |
| Saturday 15 January, 11:30am - 2:30pm | 343 Brass Band | Jesse Street Gardens |
| Saturday 15 January, 4pm – 7pm | Ben Panucci + Aaron Flower Duo | Alfred Street |
| Sunday 16 January, 11:30am – 2:30pm | The Pre-Loved | Jesse Street Gardens |
| Wednesday 19 January, 11:30am – 2:30pm | 343 Brass Band | Jesse Street Gardens |
| Thursday 20 January, 11:30 – 2:30pm | Ben Panucci + Aaron Flower Duo | Jesse Street Gardens |
| Thursday 20 January, 4pm – 7pm | The Pre-Loved | Alfred Street |
| Friday 21 January, 11:30am – 2:30pm | Ben Panucci + Aaron Flower Duo | Jesse Street Gardens |
| Friday 21 January, 4pm – 7pm | The Pre-Loved | Alfred Street |
| Saturday 22 January, 11:30am – 2:30pm | Ben Panucci + Aaron Flower Duo | Jesse Street Gardens |
| Saturday 22 January, 4pm – 7pm | The Pre-Loved | Alfred Street |
| Sunday 23 January, 11:30am – 2:30pm | 343 Brass Band | Jesse Street Gardens |
| Wednesday 26 January, 11:30am – 2:30pm | The Pre-Loved | Jesse Street Gardens |
| Wednesday 26 January, 4p – 7pm | Cope Street Parade | Alfred Street |