Gateway Sydney is closely monitoring COVID-19 and continues to follow the advice from the Government and Health Departments.
We recommend you check trading hours with individual stores, as hours may vary during this time.
When visiting Gateway please use the QR Code Check-in at the entries as well as at each individual store you visit to assist with contact tracing and please wear a face mask as required by the NSW Government public health order.
The health and wellbeing of our community is our priority, as we continue to create a safe and welcoming experience.
We continue to undertake rigorous health and hygiene procedures. These include:
- increasing cleaning rotations across high touch points (e.g. food courts, lifts, escalators, restrooms)
- providing sanitiser dispensers in the common areas, where applicable
- promotion of government health messages and posters 'to stop the spread'
- encouraging retailers and shoppers to promote good hygiene practices
- monitoring and encouraging customer adherence to relevant public health guidelines by security guards and other personnel
Visiting Gateway Sydney
If you have any of the following symptoms, please do your part in helping stop the spread and do not enter the Gateway Sydney precinct:


We can all make a difference by: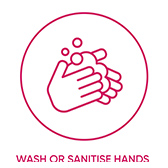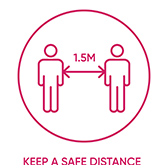 Thank you for your co-operation and support.