Discover the latest dining events, special offers, news and more at Gateway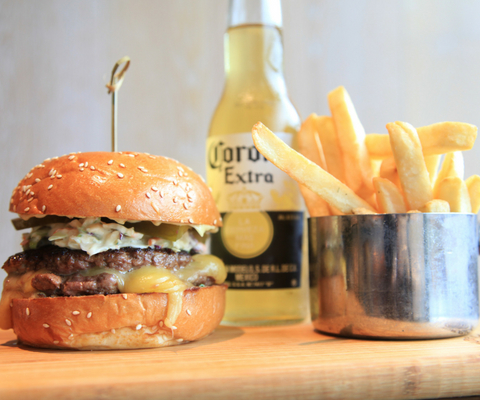 Vivid Sydney Burger Offer Hurricane's Grill
Enjoy a delicious beef burger, chips and Corona for $30. Available during Vivid Sydney only.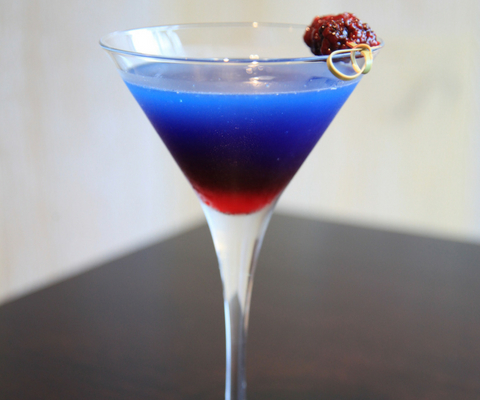 Colourful Cocktails Hurricane's Grill
To celebrate the vibrant colours of Vivid Sydney, Hurricane's has developed two new cocktails. Vivid Blue is a delicious combination of Absolute Citron, Alize Blue and Blue Curacao topped with raspberry cordial and a dash of lime & lemonade. Vivid Delight is a frozen blend of blueberry sorbet, Frangelico, Alize Blue, Blue Curacao, a dash of lime, hazelnut and blueberries.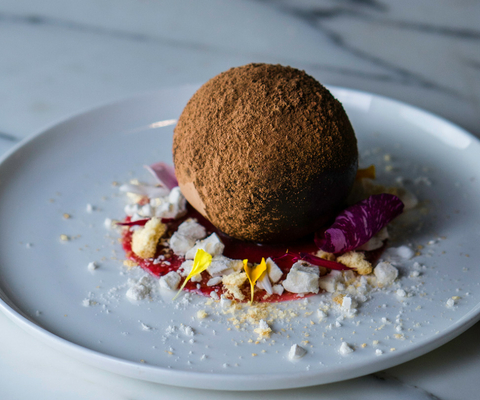 Vivid Sydney Chocolate Sphere Salt Meats Cheese
Enjoy this gorgeous dessert of house made coffee semifreddo, raspberry coulis, crushed meringue and cocoa dust. Available during Vivid Sydney only so be quick.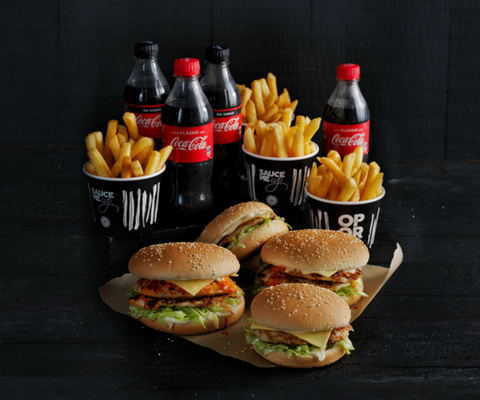 Vivid Sydney Family Deal Oporto
Keep the whole family fed and happy during Vivid Sydney with Oporto's Family Burger Deal. Enjoy two Double Fillet Bondi Burgers, two Single Fillet Bondi Burgers OR two Kids Burgers, four regular chips and four 390ml drinks for only $35. Available during Vivid Sydney only.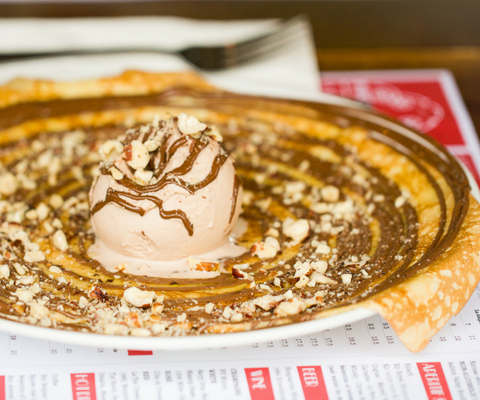 Vivid Sydney Crêpe Four Frogs Creperie
This limited edition Nutella extravaganza is only available during Vivid Sydney. The made to order crêpe is covered in Nutella and served with Nutella ice cream & crushed hazelnuts. Yum!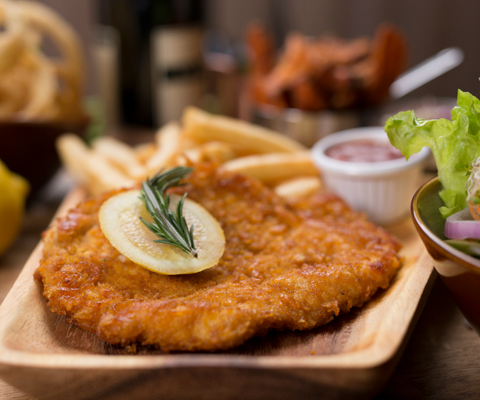 New Kids Menu for Vivid Sydney Hurricane's Grill
Hurricane's Grill are introducing a Mini Menu just in time for Vivid Sydney. Little ones can feast on Junior Southern Fried Chicken, Mac N Cheese, Junior Ribs and much more. Menu starting at $9.50.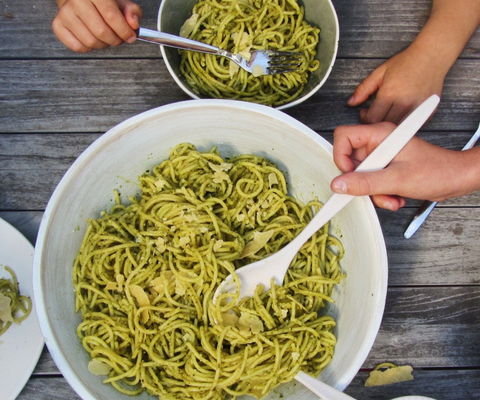 Kids eat FREE during Vivid Sydney Urban Orchard
Urban Orchard is introducing a Vivid Sydney Kids Menu. And during the festival, Kids eat FREE with any adult meal purchase.
Lemon Meringue Martini Salt Meats Cheese
Looking for a dessert cocktail? Introducing the Lemon Meringue Martini. Available during Vivid Sydney only.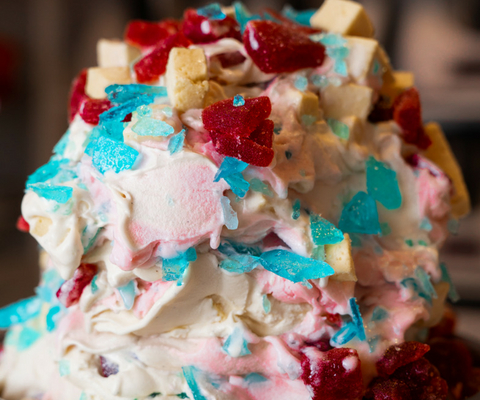 Candy Warhol - Limited Edition Gelato Messina
To celebrate the many colours of Vivid Sydney, Messina is introducing Candy Warhol. Swirls of vanilla gelato and creaming soda sorbet mixed with raspberry jellies, passion fruit marshmallows and violet crystals. Only available during the first week of Vivid Sydney so be quick!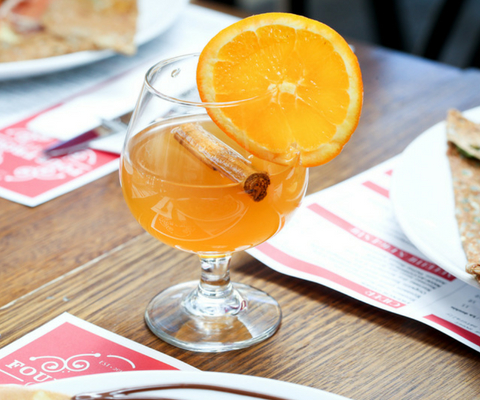 Warm Mulled Cider Four Frogs Creperie
Warm up during Vivid Sydney with Mulled Cider for just $10.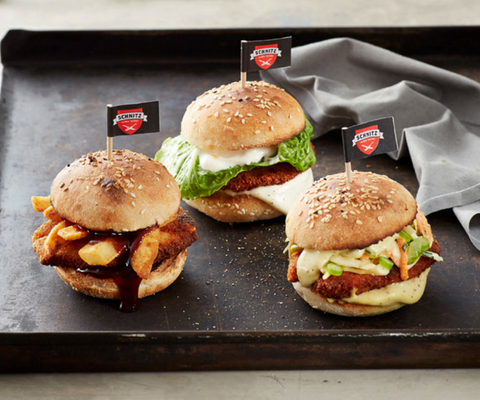 FREE Sliders For Kids Schnitz
Kids receive a FREE slider with any adult meal during Vivid Sydney. Available from 5pm every night during Vivid Sydney.
2 for 1 Tuesday Schnitz
Buy any Wrap or Roll Meal Deal incl. a large chips and bottle of water and receive another Meal FREE. First 50 orders only, so be quick! Free meal must be of equal or lesser value than purchased meal. Tuesday's only.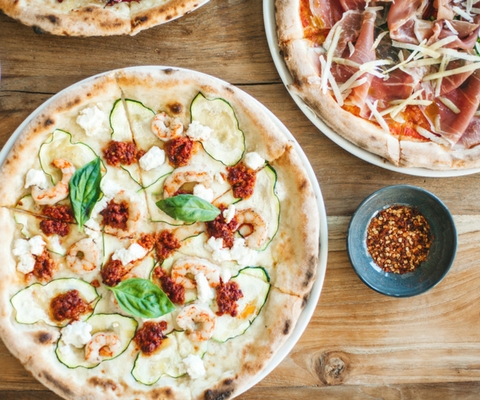 Monday Pizza Madness Salt Meats Cheese
The pizza gods have spoken! You are now be able to devour all-you-can-eat Pizza every Monday night. It's priced at $20 per person, with the purchase of a drink. $10 for kids.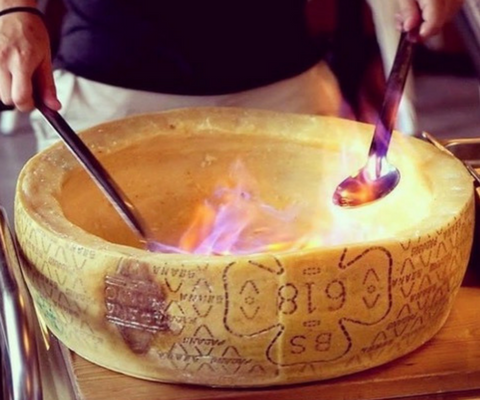 Flaming Cheese Wheel Salt Meats Cheese
Imagine a huge wheel of Parmigiano Reggiano scooped out to resemble a bowl, with warm brandy poured in and set alight, leaving melted gooey cheesy goodness behind which is tossed through fresh pasta. Alternatively, try the Truffle Wheel which is made in the same way, just with beautiful truffle pecorino. Flaming Cheese Wheel is $25pp and Truffle Wheel is $30pp. Served every Wednesday. Bookings recommended.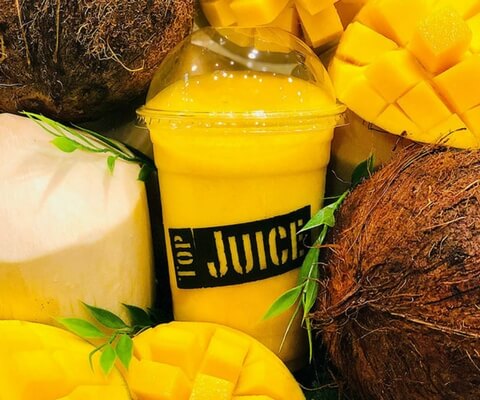 Introducing COYO - Organic Coconut Yoghurt Top Juice
You can now enjoy COYO organic & dairy free coconut yoghurt in a number of drinks and meals. Both delicious AND healthy!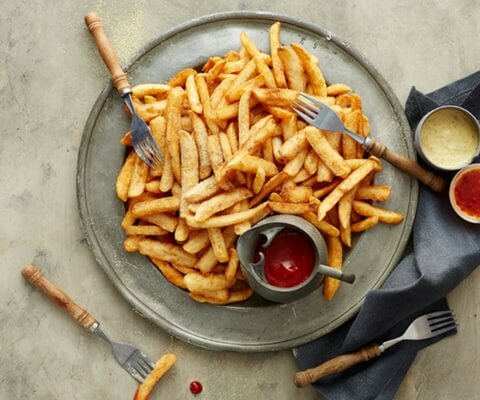 FREE Chips For Students Burger Project
Calling all students! Buy any burger and receive a free small chips. Valid 3-6pm daily. Not valid with any other promotions.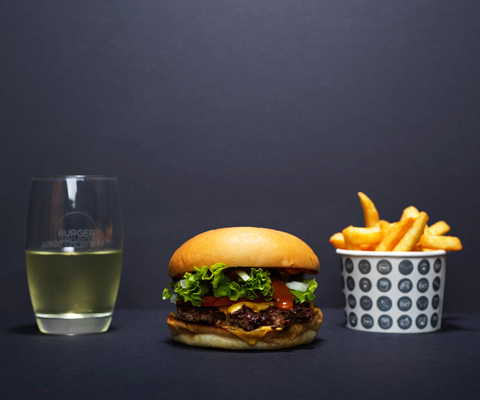 Qantas Combo Burger Project
Any selected burger, large fries and drink only 4,000 Qantas Frequent Flyer Points. Selected burgers include; Classic, Cheese, American Cheese, Chilli Cheese, Aussie & Magic Mushroom. Drink includes craft beer or glass of wine.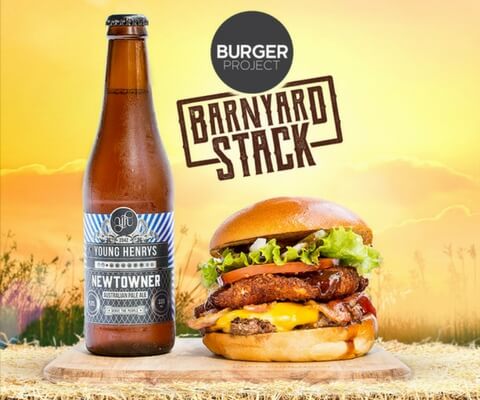 Limited Edition Burger Burger Project
Classic grass fed beef patty, layered with smoked bacon, topped with our free range chicken and finished off with a spicy, smokey BBQ sauce. Take it on for only $17.50 or add a Young Henrys for $23.50. Free gift with all Banyard Stack combo meals from 5th April (while stocks last…so be quick!).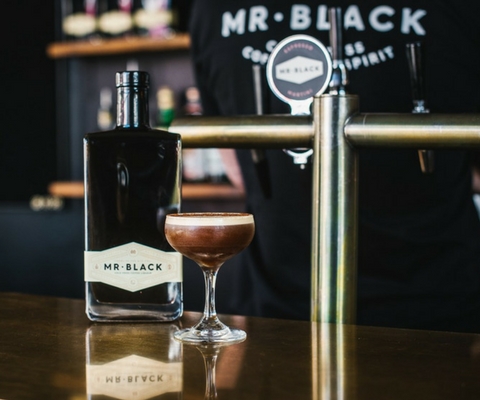 Espresso Martini On Tap Salt Meats Cheese
Who doesn't love an espresso martini? Now, Salt Meats Cheese have espresso martinis on tap! Mr Black is an Australian made, internationally award-winning, specialty cold brew coffee liqueur. It's the perfect base to an espresso martini and, at just $9 per martini, it's got to be the best value espresso martini in town.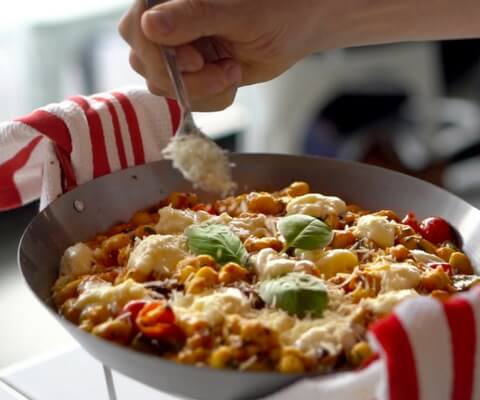 Gnocchi Madness - Every Thursday! Salt Meats Cheese
Calling all Gnocchi lovers! Enjoy 1/2 kg of your choice of delicious Napoletana Gnocchi for $35 or Seafood Gnocchi for $45 every Thursday, lunch and dinner! Designed to be shared between two or more people (or have it all yourself - we won't judge).
Property Council
The Property industry is Australia's biggest employer and largest industry, creating hundreds of different types of jobs involving every type of building where people live, work, shop and play.
We play an important part in the Property Council's advocacy priorities and share their vision to sustain a thriving industry creating prosperity, jobs and strong communities.
For more information visit: https://www.propertycouncil.com.au/